OUR WASTE TREATMENT MACHINE ECODAS T100
SUMMARY
Our patented process is designed to shred and sterilize infectious waste to reduce its volume, and render its components unrecognizable all in one fully enclosed and automated, stainless steel, system. It combines shredding, direct steam and high pressure to treat infectious materials.
The contaminated waste is loaded into the upper chamber where a heavy-duty, high-torque, low speed shredder reduces the waste into small pieces.
Using gravity, the processed material drop into the lower treatment chamber, where every particle is steam heated to 138°C (280 F) and pressurized to 3,5 bar (51 psi) for 10 minutes. The operating and treatment conditions are continuously monitored and validated to achieve complete sterilization (Microbial inactivation = 108).
After the cooling process, the final product is volume-reduced (by up to 80 %), rendered unrecognizable and safe to recycle or to dispose as ordinary municipal waste.
The 30 minutes duration of an average cycle process is fully automated and totally monitored.  A computerized control system scans the process and automatically prints a batch report at the end of each cycle with the essential sterilizing parameters for accurate record keeping.
DATA SHEETS

GENERAL CHARACTERISTICS
Dimensions (L x W x H)
Dimensions (L x W x H)
200x120x212 CM
6.6×3.8×7 F.T
Shipping Weight
635 KG
Max weight when filled with water For a special hydraulic test
780 KG
Stress
0.1 KG/CM2
Steam Pressure
8 BARS
Max Steam Flow
35 KG/H
Compressed air
6 BARS
Electricity 380V / Three phase
5 KW
OPERATING CHARACTERISTICS
Average Cycle Time
30 MIN
Process Volume Capacity
100 LITERS
Average Waste Density
100 – 150 KG/M3
Average Process Weight Capacity
10-15 KG/CYCLE
22-33 LB/CYCLE
Microbial Inactivation
108
Waste Volume Reduction
80%
CONSUMPTION / CYCLE
| | |
| --- | --- |
| STEAM | 6 KG |
| ELECTRICITY | 0.55 KWH |
| WATER | 5 LITERS |
VIDEO
1. Loading
2. Shredding
3. Heating
4. Sterilization
5. Cooling
6. Draining
7. & 8. Unloading
CASE STUDY
Site Dimensions
6 M²
Average Cycle Time Load to Load
30 MIN
Volume Capacity
100 LITERS / 26.4 GAL
Average Process Weight Capacity
10 – 15 KG/CYCLE
22 – 33 LB/CYCLE
NUMBER OF SHIFTS
AVERAGE ANNUAL MACHINE CAPACITY
1Shift – 40 hrs/wk
52 T
114,608 LB
2Shifts – 80 hrs/wk
104 T
229,216 LB
3Shifts – 120hrs/wk
156 T
343,824 LB
EXAMPLE OF ACHIEVEMENTS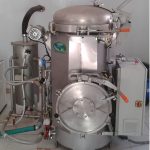 REFERENCES
Algeria, Bangladesh, Cameroon, China, Estonia, Ghana, Guinea Konakry, Indonesia, Iraq, Iran, Jordan, Libya, Lithuania, Maldives, Morocco, Mauritania, Mozambique, Panama, Peru, Philippines, Senegal, USA, Vietnam.
CERTIFICATIONS / APPROVALS